Tindall Security has recently taken over Premia Security Ltd and having been established since 1932 are more than capable of servicing both existing customers and new ones in both the domestic and commercial security sectors.
Premia Security & Tindall Security
Premia aim to grow without compromising our quality of service delivery, by putting our clients first and looking after the welfare and development of our employees.
The Best Security Alarm Company in Dunstable, Luton, Bedfordshire, Hertfordshire, and London, Premia Security Ltd have been providing the best Intruder Alarms, CCTV, and Access Control services to the Home Counties and surrounding areas since 1978. Fair prices, superior quality, and exceptional customer service are guaranteed.
Visit Tindall Security
The installing and Maintenance of Intruder Alarm Systems, With or without Monitoring to Keyholders / Police
The installing and maintenance of Panic Alarm systems with or without Monitoring to Key Holder / Police.
The installation and Maintenance of Door Access Control Systems.
The installation and maintenance of C.C.T.V. and Recording Systems.
The installation and Maintenance of automated Gates / Barrier Systems for Vehicle access control.
The installation and Maintenance of Audio / Video Entry Systems.
Emergency Lighting Testing.
Our Services
CCTV
We can, design, supply, and install the right CCTV System that suits your needs, and all our work is backed up by our affiliation with the SSAIB. No job to small or too large.
CCTV Services
Burglar Alarms
Premia Security Ltd is committed to getting the job done right the first time. That's why we engage with our clients and design, supply, and install the right piece of equipment to suit the job at hand. You can count on us to be professional, timely, efficient, and ensure you're satisfied every step of the way.
Burglar Alarm Systems
Premia Security have been Established since 1978 based in Luton and is a member of the Security Systems And Alarms Inspection Board (S.S.A.I.B.)
Premia Security Ltd is a customer friendly and efficient Company working with the 'old fashioned' maxim of reliability, affordability and customer satisfaction while keeping updated with the new/updated and revised technology the market has to offer.

From its very first inception Premia was, to be honest, straight-talking (in a language the man in the street could understand) reasonably priced and above all fair with its customers.

This policy has remained so, ever since, and it would appear to have proved its worth. A great many of our customers are known to each other, proving word and mouth is the best advertising.

Our customers range from a typical 2 bedroom terraced house to houses worth many millions, from small lockups, shops and offices to office blocks with a couple of hundred workers.

Our installations are as diverse as a pendant panic alarm for the aged or disabled with remote signalling, to intruder alarms within public houses, clubs, aircraft hangers etc, to access control in clubs with one or two thousand members. All by word and mouth.
In 1982 Premia first came to the three Counties Hospital and continued throughout the eighties with various installations all over Fairfield Hospital site, until its demise in 1998.

This then gave way to an explosion with sites and installations all over the county. In excess of one hundred sites.

In the 1990s it was decided to pull back from the London area and start concentrating on the more immediate area. To this end, Premia acquired a small company within the Milton Keynes area with a number of installations, thus assuring us a hard base to focus on more local work.

This has proven to be a wise move as with shorter distances came better response times and with lower travelling costs comes a lower cost to the customer.

Security of costing is important to ensure we are always competitive, often testing the market by becoming "customers".

In 2019 Premia Security Ltd was taken over by Tindall Security who have been established since 1932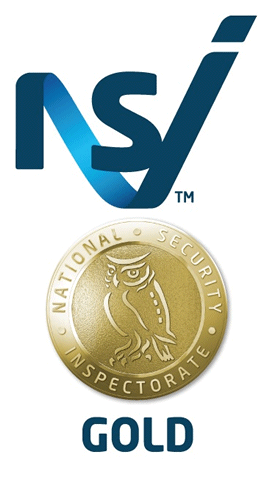 NSI Nacoss Gold Award
NSI NACOSS Gold is the highest accreditation currently achievable by a security company in the UK.
All our staff are police checked, so you know that the person who comes to your home or premises has been security screened to British Standard.
Every installation by Tindall Security comes with an NSI Certificate of compliance which can be shown to all insurance companies as evidence that your chosen system has been installed to all the highest standards. You may also be entitled to a discount on your insurance if your alarm comes with this certification.
Book a Free Survey
Click below or telephone for a free no obligation survey.
Your enquiry will be answered by our UK administration team who will arrange an appointment for one of our security surveyors to visit. Once the survey is completed, you will be sent a detailed specification and quotation.
Request A Quote